There is an issue with a setting on your device that will not allow you to make a reservation.
Please check your settings and make sure you allow/enable third party cookie access. If you still have problems please try another browser.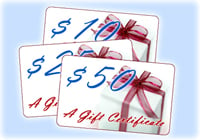 Gift Certificates
Buy your gift certificate today! Great idea for a great gift. Our prices includes tax.