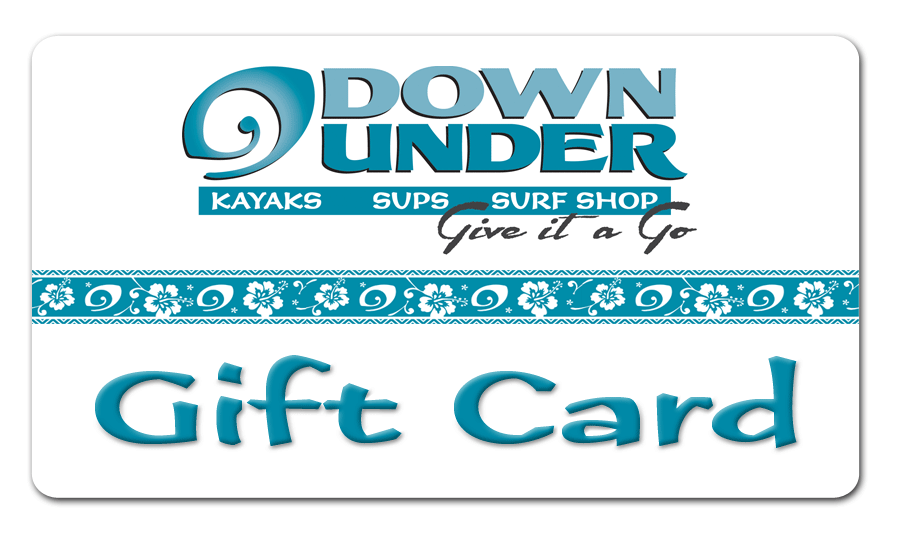 Description
Give the Downunder Experience
Our Gift Certificates are a great way to show you care while acknowledging a life event in an innovative way.
Seasonal Holidays * Anniversaries * Birthdays * Confirmations * Engagements * Graduations * Teacher Gifts * Valentines Day * Weddings
Gifts can be of a monetary value (for use in the store or on the water) or for a specific experience. If you want to do the latter, consider including tax and gratuity - to do this you would call us directly, and we'd mail the GC to you or the recipient.
Paddle Board or Kayak Lesson ($60-110 - group/private)

SUP Yoga or PaddleFit Class ($45, 5 packs $180)

Rental Packages (Kayak or SUPs, 2 hours, 5 or 10 packs, starting at $225)

Season Paddling Pass (starts at $385 for an individual)

Paddle Board Package ($995 - board, paddle, leash, group lesson)

Kayak (starting at $729 for a single)

Tours starting at $60 for 2 hours locally

Island Clambake (see above) $130 for a 3 hour clambake!
How Does it Work?
When you buy a gift certificate online you will see an option for an email confirmation - click on this to email the certificate to the recipient, or yourself - in which case you can download the pdf and print. It might look like you're buying a 'tour', you're not - you're buying Downunder dollars to be used however they want - merchandise or services!