There is an issue with a setting on your device that will not allow you to make a reservation.
Please check your settings and make sure you allow/enable third party cookie access. If you still have problems please try another browser.
Gift Certificate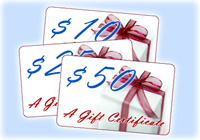 Gift certificates are available at current ticket prices for each age group. You can also purchase them in denominations of $50 or $100. There is no expiration date on their use. Certificates may be redeemed by booking a trip online, or in person with a reservation by phone.