There is an issue with a setting on your device that will not allow you to make a reservation.
Please check your settings and make sure you allow/enable third party cookie access. If you still have problems please try another browser.
Shipwrecks of Cape Cod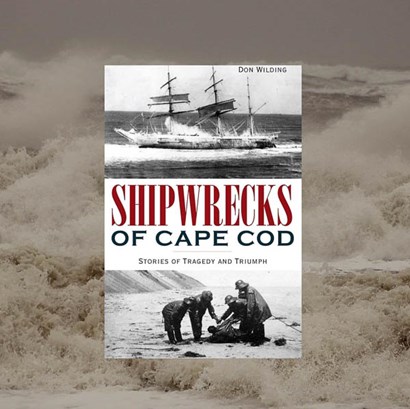 From the wreck of the Sparrow-Hawk in 1626 to the grounding of the Eldia in 1984, Cape Cod's outer beach — often referred to as the "Graveyard of Ships" — saw the demise of more than three thousand vessels along forty miles of shifting shoals. It's been said that if all the wrecks were raised, one could walk from Provincetown to Chatham without getting his or her feet wet. The October Gale of 1841 claimed the lives of fifty-seven sailors from Truro, a devastating toll for a small seaside community. Survivors from the 1896 wreck of the Monte Tabor in Provincetown were arrested for a suspected mutiny. Aboard the Castagna, which stranded off Wellfleet in 1914, several sailors froze to death in the masts, while the crew's cat survived.
Local author Don Wilding revisits these and many other maritime disasters, along with the heroic, and sometimes tragic, rescue efforts of the U.S. Life-Saving Service and Coast Guard.

Since the start of the millennium, Don Wilding has been telling stories of Cape Cod Outer Beach history. An award-winning writer and editor for Massachusetts newspapers since 1985, Don has contributed the "Shore Lore" history column for the Cape Codder newspaper of Orleans and is the author of two other books, "Henry Beston's Cape Cod: How 'The Outermost House' Inspired a National Seashore," and "A Brief of History of Eastham: On the Outer Beach of Cape Cod." He is also a tour guide and lecturer and has taught local history classes for adults on the Outer Cape.
Book signing to follow the program
$10 per person / Does not include Museum Admission